Alberta faces both big challenges and new opportunities as rapidly evolving forces shape the global energy system and deeply affect our province. Our energy system is highly interconnected with other systems, and this interdependence means addressing energy challenges in Alberta is vital to the social, environmental and economic well-being of Albertans, Canadians, and the world.
Alberta in a new energy world
We recognize the world needs to find a way to provide energy for its citizens and economies without exceeding two degrees of global warming. We also recognize there is unprecedented global agreement and commitment to transitioning the global economy to achieve this target.
As an energy provider whose economic vitality is closely tied to the global energy economy, we face a new set of competitive factors. As energy consumers living in a cold climate, and geographically distant from other trading partners, Albertans use significant amounts of energy to live and to do business. Our future prosperity will be determined largely by how we respond to the interconnected issues of climate change, energy security, social equity, and sustainable economic development.
Leverage our strengths and our past to transition to the future
The development and export of oil and gas have helped create a prosperous industrial sector and economy for Alberta and Canada. We cannot expect that prosperity today lies in the same path where it was in the past. Nor can we abandon the resources and assets that have made us prosperous to this point.
Our prosperity challenge lies in developing and leveraging our resources and assets in a way that helps build the energy system the future requires of us. This means developing low/no-carbon energy opportunities while reducing the footprint of higher-carbon energy products that are currently the backbone of our economy. Alberta can lead the world by showing how this can be done.
Innovation is central to the Alberta story
This will require the deployment of new and proven models, collaborations, technologies, and a bigger focus on innovation. Alberta has a long history of innovation to build on. This province is a global energy leader, and Albertans have developed capabilities and know-how that can serve as a platform for the innovation required to address our current challenges and position us competitively in a changing global energy system. Doing so will create new opportunities to renew our economic vitality and diversify the sources of our shared prosperity.
We anticipate that by 2050 the world has made major advances in transitioning to a sustainable global energy system, where production and consumption aligns with the scientific principles of sustainability.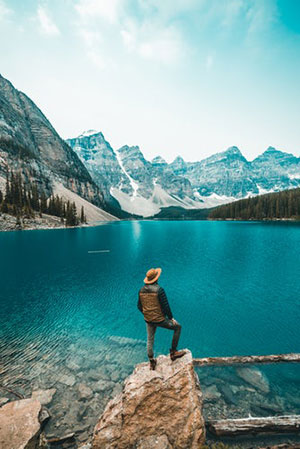 Albertans are thriving because we produce and use energy in a way that the future requires of us.

This means that we are…
Home to the world's most innovative, entrepreneurial and responsible energy citizens
Net carbon-neutral for electricity, heat, mobility and industrial processes
The world's leading source of energy technology, products, know-how, and future-fit hydrocarbons 
A leader in energy-based partnership toward reconciliation with Indigenous peoples in Canada
In this vision, energy is a continued source of prosperity, and Alberta continues to provide products and innovations to meet the world's changing needs for heating, electricity, and mobility. We have simultaneously lowered the footprint of hydrocarbon resource production, unlocked new uses for hydrocarbons, and pioneered the development and deployment of alternative energy technologies, energy efficiency and energy conservation. As a result, Alberta's energy products and know-how are considered key enablers of the transition to a low-carbon global energy system.
Alberta has become a global leader, a magnet for talent, and a role model for other resource-based economies. It has established sustainable prosperity for its communities and Canada as a whole.
Achieving this vision would mean that by 2050 Alberta has an energy system that:
Enables a high quality of life for Albertans by meeting our energy needs reliably and affordably. Energy drives much of the everyday life for Albertans and the economy, and its availability and affordability affect our standard of living. Albertans depend on our energy system to meet their needs for shelter, comfort, mobility, food, and to operate their businesses and institutions. Dependable and affordable energy allows a high quality of life for Albertans and a strong economy.
A leader in energy-based partnership towards reconciliation with Indigenous peoples in Canada. Our energy system fosters engagement with and development in Indigenous communities, while fully respecting Indigenous and Treaty rights, traditional knowledge, values, perspectives, and honouring the UN Declaration on the Rights of Indigenous Peoples. It includes Indigenous peoples, and enhances their environmental and social prosperity and personal well-being.
Is inclusive, accessible, and equitable to current and future generations. Alberta's energy system supports the well-being of Alberta communities, recognizes its responsibility to global communities, ensures all voices and perspectives are included in how decisions are made, and that all Albertans can share in its benefits. Special consideration is given to youth and marginalized populations, including their energy needs.
Enhances the health of our natural environment and the health of Albertans. Alberta's energy system contributes to positive long-term impacts on ecosystems, including air, water, land, and biodiversity, and is restorative to ecosystems and natural capital. Energy production and usage is designed in a manner that enables and encourages Albertans to live a healthy life.
Is net carbon-neutral for the production and consumption of energy in Alberta. Policies, technologies, and processes are in place that have resulted in carbon neutral emissions and fostered innovation to expand non-combustive utilization for carbon and carbon dioxide. There is no net accumulation of carbon in the atmosphere as a result of Alberta's energy system.
Is a continued source of economic prosperity for the province and the country. The energy system continues to provide significant short and long-term economic benefits and jobs for Alberta and Canada. It fosters an attractive investment environment for energy producers, energy users, and entrepreneurs.
Is diverse, resilient, and adaptable. A diversity of energy sources, strong and flexible connections between energy sources and uses, and a distributed network help ensure Alberta's energy system is resilient and adaptable to changing circumstances.