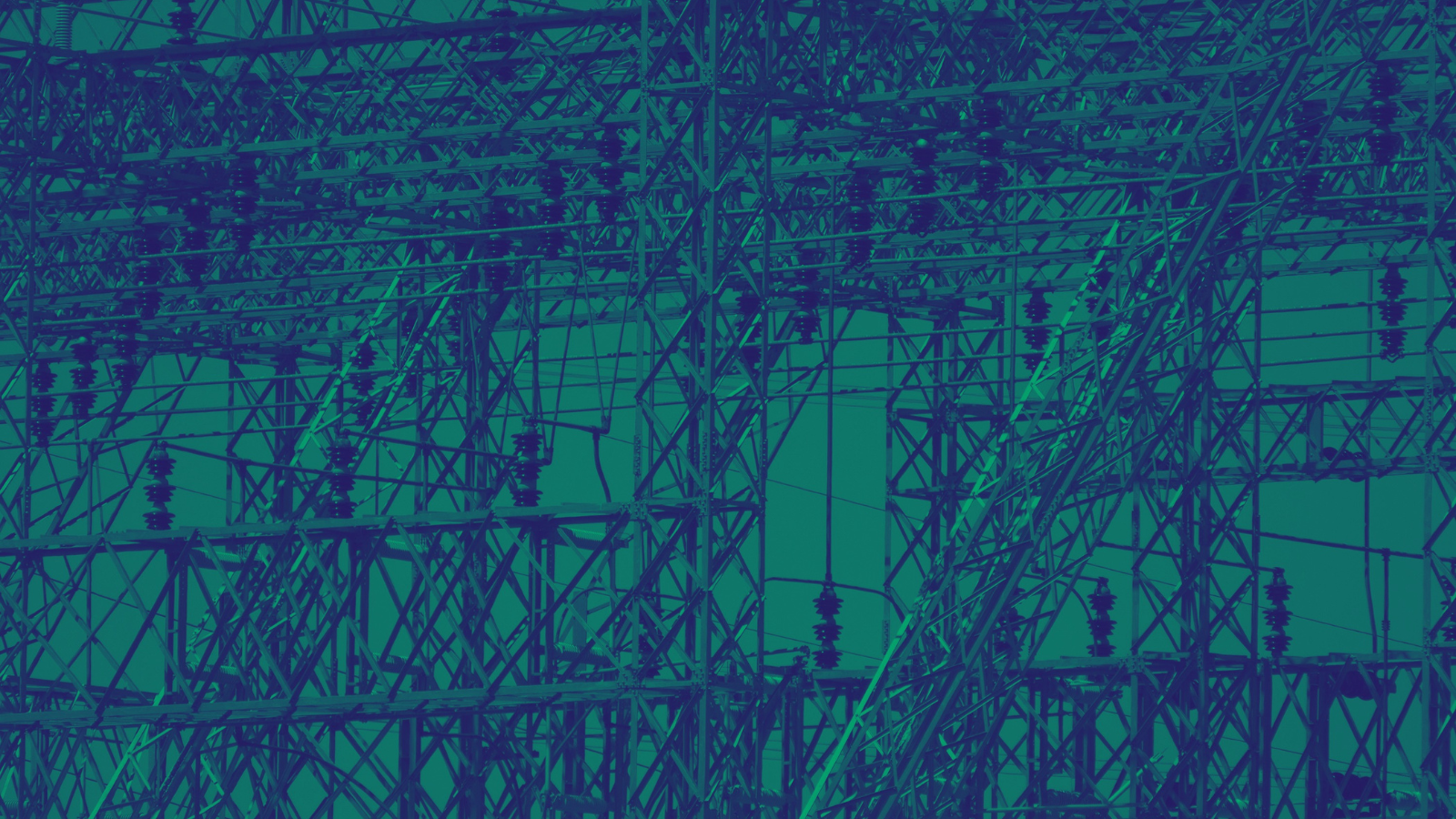 The Energy Futures Lab's Grid Sandbox Innovation Platform 
The evolving grid 
In 2022 it's easy to take the flip of a light switch for granted. For the most part, people are accustomed to a dependable grid, meaning the intricate systems that provide access to safe, uninterrupted, and affordable electricity are often obscured. But uninterrupted power isn't a given; it's the result of a careful balancing act that can be tipped off kilter by any number of different factors. 
That the grid is subject to disruption is nothing new. For example, if you look at Calgary, Edmonton and Lethbridge in the late 1800s,  you'll learn that these cities were the first major urban centres to provide electricity in Alberta. By the turn of the century, however, existing electricity systems were becoming strained by a steadily growing population. A population boom was all it took to tip the scales. Today, our electricity system is facing new disruptions, disruptions that must be addressed if uninterrupted access to safe and affordable power is to remain the norm. While population growth may be a factor in some regions, the rapid expansion of distributed energy resources (DERs) is quickly altering traditional electricity distribution. 
DERs include a wide array of electricity-producing resources, such as solar panels, electric battery storage, electric vehicles and controllable loads like heat pumps, air conditioners and electric water heaters.
DERs are significantly altering the way energy is produced and distributed, but to understand this disruption, it's worth remembering how our traditional electricity system is set up. In the past, we've primarily followed a centralized model wherein electricity is produced at large generating stations, often near the loads they serve. The electricity is delivered to end users through transmission and distribution systems, enabling a clear relationship between customers' energy consumption and the services delivered by utilities. Today, DER technologies can be built at smaller scales and can be co-located near the loads they serve. This also allows for the creation of microgrids, most simply defined as decentralized groups of energy resources. So instead of electricity being generated solely at large generating stations, it can instead be generated at smaller stations or even at people's homes.
This begs many questions. For example, what does it mean for customers who are now producing their own power using solar PVs, but who remain connected to the grid? How might we manage a strained electricity supply as electric vehicle (EV) adoption begins to skyrocket? Furthermore, how might utilities adapt their business models and relationships to customers as these systems continue to evolve?
The bottom line is simple: as DERs continue to impact our existing electricity system, the delivery of utility services is becoming less straightforward.
Furthermore, the current distribution system is overloaded, meaning that it cannot accommodate any more DERs without either massive upgrades to the grid or distributed energy resource management systems (DERMS). As one can imagine, new innovations are required, creating massive opportunities for Alberta.
Distributed energy resources management systems (DERMS) are systems developed to manage grid loads as DERs continue to change the way electricity is produced and distributed.
There is a growing market for electric utility software applications, allowing digital innovators such as those involved in the Energy Futures Lab's Grid Sandbox Initiative to come forth with unique solutions. As an innovation space for artificial intelligence (AI) innovators, utilities and homeowners to seek solutions for electricity demand management, the Grid Sandbox Initiative is working to identify new ways for utilities and consumers to gather better data for decision makers today (in our current grid system) as well as for the future system, in a way that supports a clean, affordable and distributed electric energy system. 
Leveraging digital innovation to create the energy system the future requires of us 
The Grid Sandbox initiative was inspired by the following question: "how might we leverage digital innovation to create the energy system that the future requires of us?" With artificial intelligence (AI) and machine learning (ML) beginning to play an even more integral role in shaping our evolving energy system, developing software applications using Alberta-led AI/ML offered a logical next step. In a proposal to the RBC Foundation, the project team described their idea. The concept involved creating "virtual neighborhoods" to act as a Grid Sandbox and was developed under the umbrella of the EFL's Energy.AI initiative. The platform would group participating homeowners from across the province into at least three "virtual neighborhoods." AI/ML innovators and utilities would also participate as solution providers by developing an interactive online platform featuring virtual DER technologies and/or communications aimed at changing homeowner behaviours. 
The goal of this project is therefore to set up a virtual "data sandbox," allowing participants to test new utility business models and energy services in a safe environment, but using real-world data in a way that benefits utilities and consumers alike.
"The Grid Sandbox is unique because it allows you to pilot something in a virtual space while still engaging with real people and real utilities" – Barend Dronkers, Project Lead for the Grid Sandbox initiative. 
But what exactly does it mean for participants to "test new utility business models and energy services in a safe environment"? What might this look like for consumers? Or providers? An apt example, offered by the Grid Sandbox project team, draws connections between this work and the platform developed by major streaming giant, Netflix. Think of it this way. When a subscriber logs into Netflix to watch any given movie or TV show, Netflix gathers this data and in turn curates tailored suggestions for that specific viewer. New recommendations often highlight movies or shows that the viewer may never have known about, and that may have taken hours of scrolling or searches to eventually discover. In this sense, the consumer both saves time and learns about the suite of "products and services" offered by the company, while the company learns more about their customers' preferences and behavioral patterns while also ensuring their "products and services" are recognized by the consumer as available options.
Furthermore, AI algorithms developed as part of the Grid Sandbox would provide tailored recommendations not only about available products and services, but also about how the customers might change their behaviour to, for example, lower their overall energy consumption. With the delivery of utility services becoming less straightforward as a result of DERs, clear communication between utility providers and consumers can help both parties make more thoughtful decisions, while allowing for a better understanding of how DERs are changing the rules of the game.
As Canada strives towards net-zero by midcentury, another direct benefit may be improved energy efficiency as the consumer becomes increasingly aware of incentives or programs aimed at reducing emissions. The Grid Sandbox platform provides an opportunity to capture and make sense of "behind the meter" data. For example, instead of simply understanding how much energy is being consumed, the project strives to help utilities gain insight into how efficient their consumers' appliances or DERs are. This data, then, is something of a golden egg. Without it, the gap between what producers can offer and what their customers need or want may widen. 
"How can we make policies for hitting climate targets in Edmonton if the incentives are based on poor data?" asks Barend Dronkers. 
With available data, transforming the grid becomes all the more feasible. Furthermore, if producers are able to tap into their customers' needs, a whole suite of benefits may be unleashed, including more knowledgeable and responsible "energy citizens."
The "Rules of the Game" 
For a sandbox or "solutions space" to work, boundaries must be established. In other words, a framework is required. The Grid Sandbox project team sometimes refers to this framework as the "Rules of the Game," a set of rules mimicking regulations imposed by the Alberta Utilities Commission within the confines of the Alberta Electric Utilities Act. In the same way that there are rules capping what a telecommunications company can charge on a monthly basis, there are rules regulating what utilities can charge and the kinds of activities they may engage in. 
As the energy sector evolves, so too will the regulatory frameworks governing utilities. The question is how will they change?  Because the grid sandbox is ultimately a planning tool for utilities, the data they receive can help them make key decisions about what to incentivize and how to navigate a changing energy landscape. With live data, they can better understand the implications behind regulatory changes and shifting consumer preferences. The customers, which will eventually interface with the utilities through an app, are also given an opportunity to assess potential implications. If they adopt a DER such as solar, for example, they can gain further insight into how their energy bills might be affected. 
All hands on deck: developing foundational partnerships 
The importance of collaboration and partnerships in developing the Grid Sandbox cannot be overstated. In June 2020, the Energy Futures Lab and the City of Edmonton co-hosted a workshop focused on identifying the role of AI/ML in supporting the City's of Edmonton Transition Strategy. Particular emphasis was placed on rising demand for electricity due to a greater adoption of DERs such as heat pumps and electric vehicles. In essence, workshop participants were exploring how to balance demand, while also avoiding a costly revamp of the city's infrastructure. Digital innovation could help do both, but the challenge would still require a diversity of expertise to solve.  
"No one party is going to own the solution," explains Prageet Nibber, an EFL Fellow and CEO of ReWatt Power, a project partner. "The energy system is so complicated, meaning a bunch of different parties will all have to contribute their bit. The collaborative approach needed in this work is definitely aligned with the EFL's convening strategy." 
As expert conveners, the Energy Futures Lab stepped in to support system-wide collaboration. As a result, the Grid Sandbox was born. The project quickly snowballed as new project partners were onboarded, beginning with Energy Efficiency Alberta (EEA) and the City of Edmonton, followed by ReWatt Power, Braintoy and ENMAX Power shortly thereafter. 
While ReWatt Power, a dedicated climate accounting and monetization platform, has worn many hats within the Grid Sandbox, their expertise in data collection and building financial incentive programs has proven invaluable. Furthermore, as the Grid Sandbox will ultimately be distributed as a ReWatt product, the company will provide the code behind the final application. In particular, as utilities begin moving towards leveraging what metering can do, the ability to tap into "behind the meter" data (as ReWatt is doing) becomes particularly important. With increased access to data, utilities can begin building "homeowner profiles." For example, a homeowner profile can show what the average profile of a homeowner might look like based on the type of home they live in, the number of people in the dwelling and the square footage of that particular building. But first, to create these homeowner profiles, data must be processed and with large volumes of incoming information, this could prove to be an exhaustive task. This is where Braintoy comes in, an AI/ML company who's produced a machine learning platform called mlOS. Describing mlOS as a platform that "empowers developers, teams, and businesses to build, manage, and monitor models at scale," their product emerged as a valuable asset in this data intensive project. By deploying machine learning to sort through the data, homeowner profiles can be designed more efficiently. 
The data collection, meanwhile, serves to benefit utilities by providing them with insight into customers' interests and behaviours. The project, then, would need to engage a utility to help test the platform, so in 2021, when Terri-Lynn Duque joined the Energy Futures Lab as a Fellow, she became an important liaison between the project team and ENMAX Power. Leveraging her position as the Director of Strategic Innovation with ENMAX Power, she became excited about the Grid Sandbox and worked to support the EFL in navigating a possible relationship with one of Alberta's largest energy providers. While ENMAX Power is currently the only utility partnered  in the Grid Sandbox, ongoing discussions indicate future interest from other utilities in the province. The project is now in its first phase, with approximately ten ENMAX Power employees having signed on to create a "virtual neighborhood." 
RBC Tech for Nature Program 
"RBC Tech for Nature is our multi-year commitment to preserving the world's greatest wealth: our natural ecosystem. We work with partners to leverage technology and innovation capabilities to solve pressing environmental challenges."
Dedicated to funding technology-driven programs focused on data, the innovation ecosystem and communities of action, the RBC Tech for Nature Program helped to give birth to the Grid Sandbox Project within the Energy Futures Lab's broader stream of work known as "Energy.AI". 
Moving Forward 
Today, the Grid Sandbox initiative is well underway thanks in large part to the Energy Futures Lab. Playing an instrumental role in facilitating cross-sector relationship building, the EFL helped establish some key partnerships that have helped bring this work to fruition.